Op vrijdag 5 april 2019 vindt in het Beatrixtheater in Utrecht het 5e Healthy Food Congress plaats. Dit lustrum vindt tegelijk plaats met het succesvolle Congres Arts & Leefstijl.
Uniek congres in het teken van groenten en fruit
De gehele voedingstuinbouwketen is welkom tijdens het Healthy Food Congress op vrijdag 5 april 2019 in het Beatrixtheater in Utrecht. Tegelijkertijd vindt het Congres Arts & Leefstijl plaats, dat wordt bezocht door ca. 1.000 artsen en diëtisten. Hoewel beide congressen een eigen doelgroep en programma hebben, zijn er veel contactmomenten waarbij er interactie is tussen de deelnemers om elkaar te inspireren.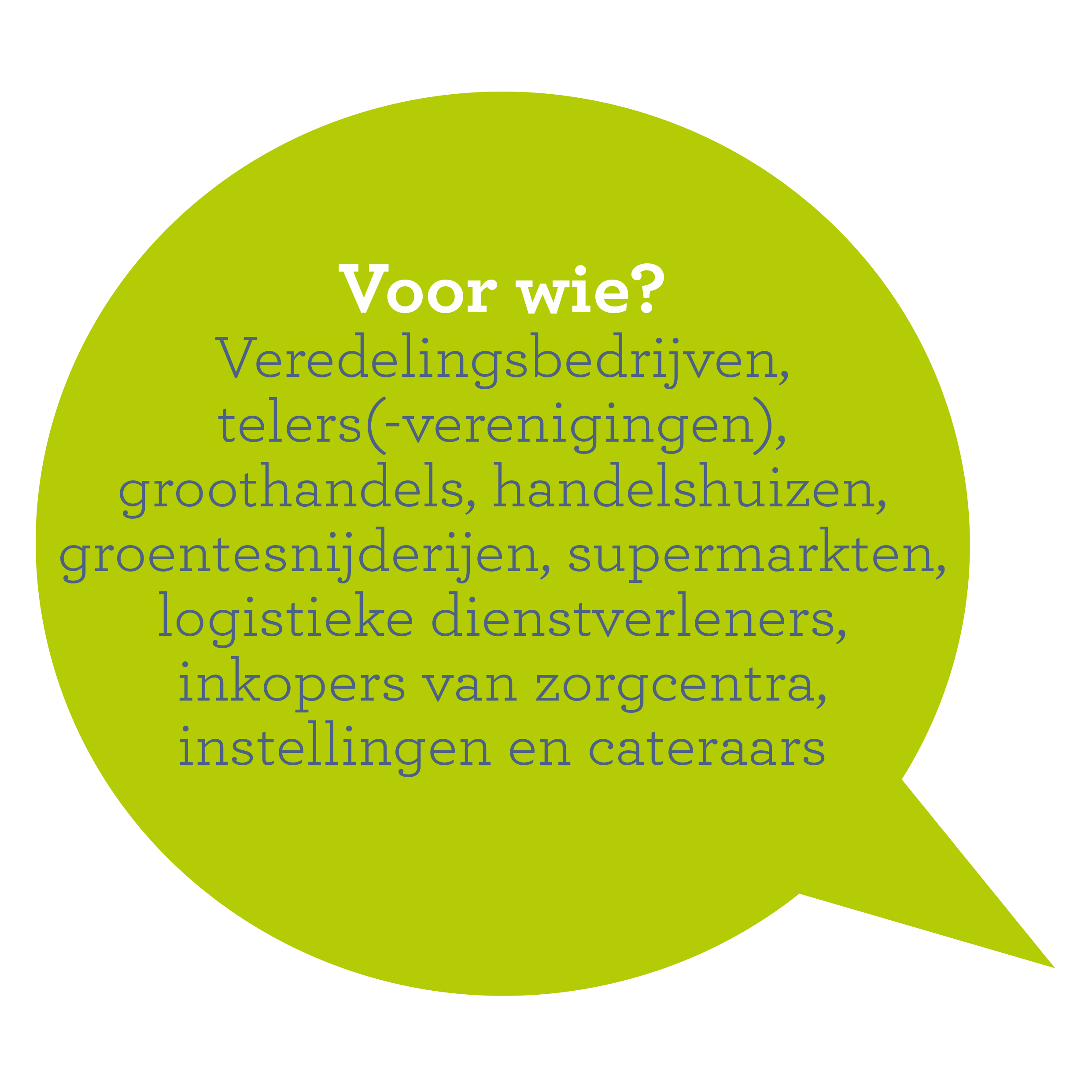 Lees hieronder over het Healthy Food Congress 2017 (Engels). De Nederlandse tekst leest u hier.
---
Healthy Food Congress 2017
September 8th, 2017
World Forum, The Hague
An one-day Healthy Food Congress about current topics in healthy food: where are we now and where do we have to go from now on. Unique collaboration with scientists, health care professionals, innovators and metropolitan farmers. And the ESPEN Congress will be launched the next day.
Pictures of the Healthy Food Congress.
Link to the presentations.
09.00
Reception and registration
09.30
Opening by the chairwoman Hella Hueck

09.45
The first 1000 days


9.45-10.00 'The fundamental importance of food in early life for building the future'
Prof. dr. T. J. Roseboom, Amsterdam Medical Centre
10.00-10.15 'Healthy preconception nutrition: potent seeds and perfect eggs'
Prof. dr. R.P.M. Steegers-Theunissen Erasmus MC
10.15-10.30 'Nutrition in the first years of life: fit for life'
Prof. dr. R.M. van Elburg, Professor by special appointment of Early Life Nutrition, AMC-UvA and Chief Scientific Offices, Nutricia Research, Utrecht

10.30-10.45 'How can we improve early life nutrition?'
Dr. Mary Barker, Associate Professor of Psychology, MRC Lifecourse Epidemiology Unit, University of Southampton, UK

 

.

11.00
Healthy break

11.30
Best practices in improving health


11.30-11.50 'The pleasure of healthy eating from the start of complementary feeding'
Dr. S. Nicklaus, Research Director at INRA (French National Institute of Agricultural Research)
11.50-12.00 'Food education in schools: a happy meal?'
Drs J. Zwart-van Kessel, Wageningen University
12.00-12.10 'The highway to health: how impulsive behaviour can lead to healthy food choices'
Prof.Dr. E.W.M.L. de Vet, Wageningen University & Research
12.10-12.20  'SLIM – lifestyle interventions to prevent type 2 diabetes'
Prof. Dr. Ir. E.J.M. Feskens, Professor in Nutrition and Health over the Lifecourse, University of Wageningen
12.20 Pitches
Vegetable concept for babies – Sjoerd Jochems, Gipmans
Exploring new flavours at day care – Madaga, Great Little Foods & Smallsteps
 

.

12.45
Healthy Foodwalk

13.45
Personalized nutrition, which way to the future?

13.45-13.50 Introduction on the topic
N. Clabbers, TNO
13.50-14.05 'The NOURISHING policy tool – the importance of comprehensive government policies to promoting healthy diets'
L. Codling, Head of Policy & Public Affairs World Cancer Research Fund International (London)
14.05-14.20 'Measuring health for personal advice'
Dr. Ir. B. van Ommen, TNO
14.20-14.35 'Personal life-style-intervention for type 2 diabetes in prison'
Drs. T. de Weijer, General Practioner and Chair of the Association of Practioners and Nutrition
14.35-14.50 'The healthy city: success factors and pitfalls from an integrated approach'
Prof J. Seidell, University of Amsterdam
 

.

15.00
Tasty water
15.30
Food trends, food design, innovation

15.30- 16.00 'The Impact of Taste, Health, and Price on Fresh Produce Choice: Can it be all things to all people?'
Dr. J.L. Stanton, Professor of Food Marketing, Founding Editor, Journal of Food Products Marketing (retired), Contributing Editor, Food Processing magazine, Member European Retail Academy Hall of Fame, Saint Joseph's University
16.00-16.15 'Nudging and food design'
Mr. B. Hutten, CEO Hutten Catering, Founder 'De Verspillingsfabriek'
16.15-16.30 'It starts with hospitality and ends with cure: Food for Care'
Dr. Ir. H.P.M. Kivits, Founding Father Food for Care
16.30-16.45 'Rob and Bob: towards the healthiest restaurant in the world'
Mr R.J.P. Baan, Metropolitan Farmer, CEO Koppert Cress

16.45
Conclusions and closing session
17.00-18.00
Reception with drinks